Local Events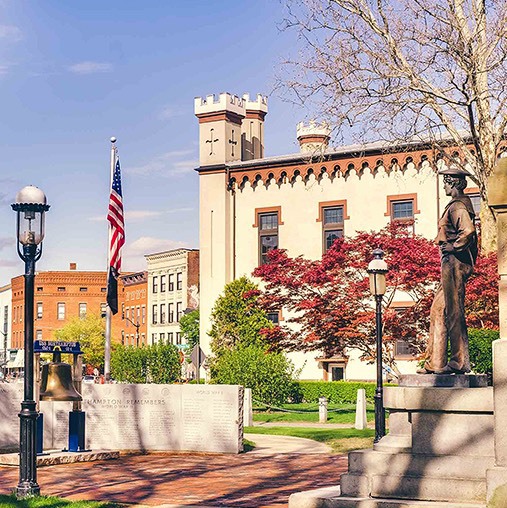 H

a

p

p

e

n

i

n

g

s
A
r
o
u
n
d
T
o
w
n
Northampton's thriving cultural center is a popular destination for visitors from the region and beyond. The city boasts many eclectic restaurants and a lively arts and music scene. In addition to a calendar of creative programs and workshops, three farmers markets selling fresh produce from local farms are held weekly.
winter
January
First Night Northampton
For 34-years, First Night Northampton has brought the city alive with a 12-hour, family-friendly festival of the arts.

February
Look Park Winter Carnival
Add your tree to the Christmas Tree Burn. The 413 Eats Food Truck and Girl Scouts provide all of your snacking needs on a day filled with fun events and carnival games!
December
Adult Game Night
Mill 180 Park hosts an Adult Game Night every Thursday night from 6:00 pm. Come out and play games like corn hole, giant Jenga, giant chess and checkers.
spring
March
Paradise City Arts Festivals
Come out and enjoy beautiful works of contemporary craft and fine arts. Every year, Paradise City Arts Festivals features fresh ideas for home decorating, gifts, and more.
April
Open Mic Night at Brew Practitioners
Hosted by Alex Johnson of Colorway, all proceeds benefit Big Brothers and Big Sisters of Hampshire County.
May
NoHo Pride Day
Honor the integrity, history, and diversity of our Lesbian, Gay, Bisexual, Transgender, Queer community at Pride Day.
summer
June
Cinema Northampton
Bring your blanket and enjoy this collaboration between Northampton Community Television, Forbes Library, Northampton Arts Council, and the Parks and Recreation Department to feature free movies every month.
July
Summer Concert Series
Attend a diverse lineup of live and free arts programming in both central and downtown Northampton.
August
Transperformance
This humorous end of summer musical is a chance for local performers to assume the persona of well-known musicians while celebrating the diversity of our population.

fall
September
Music Under The Grow Lights
Hear free, live music every Friday night, from solo artists and bands of all styles.


October
Pulaski Day Parade
It's a celebration of General Casimir Pulaski and Polish culture that will include local farmers, organizations, and Polish groups.
November
Tango Milonga
Improve your dancing ability during a night of heart-pounding fun. All levels—all are welcome.